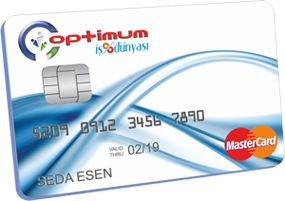 Convenience, exclusive savings, opportunities to check your accounts regularly. Don't miss out on the exclusive privileges Optimum BusinessWorld credit card has to offer your company!
Use Optimum BusinessWorld credit card securely to pay for all your business spending and transactions anywhere in the world, removing the need to carry cash or a cheque book.
On all of your business trips, whether home or abroad, you can pay for accommodation, travel, office equipment and any other work-related purchases rapidly and very easily using BusinessWorld card. What's more, using BusinessWorld card earns you Optimum Points for all your purchases worldwide. You earn even more Optimum Points when you pay in instalments or make one-off payments at establishments which accept BusinessWorld. You can spend the points you have earned immediately, or use them to make free purchases later at Optimum POS member merchants.
Authorised personnel can access company accounts, make payments and withdraw cash instantly at our branches or from ATMs. If abroad, cardholders can withdraw instant cash at ATMs displaying the MasterCard/Visa logo.
You can benefit from the Comfort Lounge services at Istanbul Atatürk Airport foreign terminal free of charge.
Features of Optimum BusinessWorld
Applying for an Optimum Businessworld card
Click here for fees and rates valid on Credit cards.
Optimum Instalment

Don't postpone your dreams. Choose the instalment option for your purchase payments.

Use Optimum Instalment for your OptimumCard payments. You can take advantage of favourable shopping opportunities and payment conditions whenever you see the Optimum symbol in more than 4,000 outlets. With OptimumCard you have the option to either pay in full or in interest-free instalments regardless of the payment period.You get OptimumPoints from both of your instalment and full payment purchases.

Optimum Delayed Instalment

Shop first, pay later anywhere in the world. You can even pay off your cash purchases in instalments...!

With OptimumCard you can turn all your single payment purchases into instalment payments at home or abroad. All you need to do to make your payments is visit our Internet Branch online, use our Mobile Branch via your mobile phone or tablet or contact our Call Centre on (0392) 600 02 02.

How to calculate a delayed instalment

Channels for applying for Delayed Instalment

Optimum Advance

Do not make a big deal … Simply withdraw cash advance from ATMs and our branches. !

With OptimumCard you have the freedom of a cash advance anytime you need one. You can withdraw cash from all KOOP24 ATMs, our branches and all ATMs displaying the MasterCard/Visa symbol, at home or abroad.

Optimum Points

Earn all the time… Shop for free by spending points rather than money.

Optimum Points with OptimumCard. Single payments or instalments, you get Optimum Points on all purchases paid for with OptimumCard. What's more, you can double and quadruple your points at certain point levels and at certain periods. Then you can use the Optimum Points as money for shopping at various shops/businesses.
Scroll
KOOPBANK ATM Listesi
ATM LİSTESİ 123
×
Register now
---
I'm a small Introtext for the Register Module, I can be set in the Backend of the Joomla WS-Register Module.
---
×